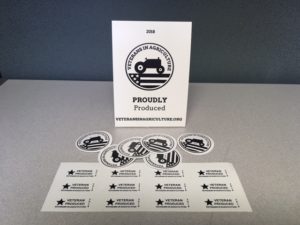 The Veterans In Agriculture (VIA) labeling program's overall goal is to provide assistance in promoting veteran and active duty military owned farms and/or agribusinesses. And to enhance veteran businesses and VIA's overall goal of empowering veterans to thrive in agriculture.
This program is designed to help beginning and/or established veteran/active military/reservist farmers with some basic items that can be used to establish and/or expand their presence in the marketplace as well as for marketing purposes.
Through the use of an identifiable label, veteran/active military/reservist may be more easily identified in the marketplace for those consumers who would like to support them through the purchase of their products. The VIA's labels are designed to be used in conjunction with a farmers existing brand, or can be used as a stand-alone product.
To learn more about this program from the attached documents. Use the attached document to make application and email to the address on the form, along with other applicable documents.